Instagram has been trying to keep up with all other social media platforms and what they're offering, and they're doing a really good job too! We all remember what Instagram used to look like - a platform where users only shared photos of their personal lives. However, memes rolled out, meme pages rolled out, and finally - videos, Instagram Reels, IGTV, and Instagram stories.
However, other social media platforms, whose main point is video sharing, let's mention YouTube and TikTok, have a way of downloading videos. But, what about Instagram? Besides taking a screen recording of the video you need to have saved to your camera roll, can Instagram videos be downloaded?
How to download Instagram videos (2022)
Good news - there is a way to download an Instagram video, without having to download third-party apps on your devices, and it's free. Even though Instagram hasn't integrated an option for users to download videos in the app directly yet, we have come to the rescue.
A private video downloader for IGTV videos and reels is the best solution you will find to this issue. Follow these guidelines to download all your saved Instagram videos!
Download Instagram Videos from Desktop / Laptop
Open the web browser, and open DownloadMediaFrom Instagram Video Downloader.
On Instagram, find the video you want to download and copy the URL by clicking on the three dots in the upper right corner.
Another window will open up, with a few options; click on 'Copy URL'.
Go back to DownloadMediaFrom Video Downloader, and in the field paste the link you copied.
Click on the Download button, and you will be given several options, downloading it as a photo or video; if you need your video saved on your computer, click on the first one - Download video MP4.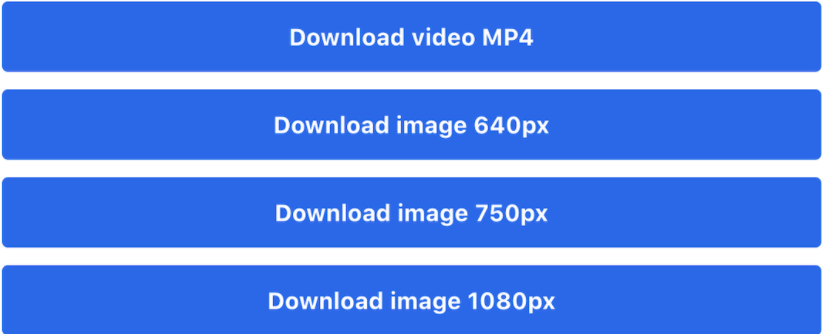 Wait for the download to finish, and you'll have your video saved for however long you need it!
Download Instagram Videos from iPhone (or Android)
The downloading process is more or less similar when using a mobile device. The video downloader works for both iOS and Android users. Follow these simple steps to download Insta videos on your phone:
On your iPhone or Android device, open: DownloadMediaFrom Instagram Video Downloader.
Open the Instagram app, and find the IG video you need to download.
Click on the three dots, and copy the video URL by clicking 'Copy Link'.
Go back to Safari/Chrome/Browser, and in the DownloadMediFrom Video Downloader, paste the link you copied in the field.
Click on 'Download', and wait for the video to load.
Scroll down, and from the multiple options you'll be given, tap on Download video MP4.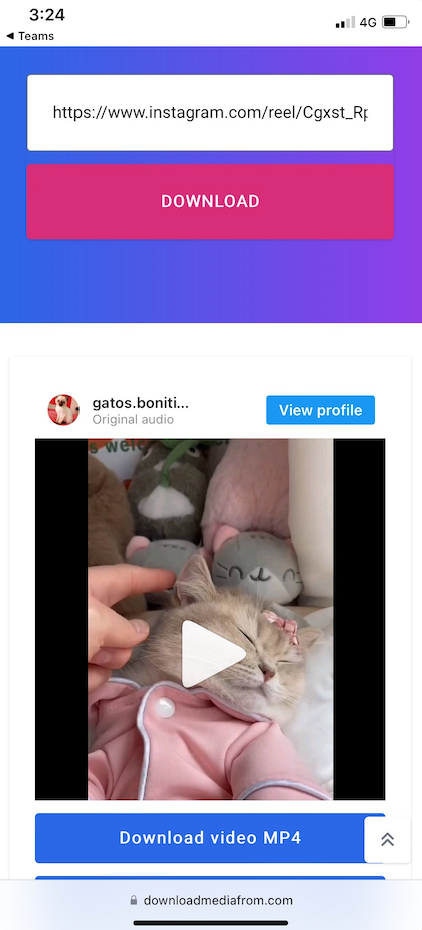 The online tool will download the videos to your device.
This is the easiest and quickest solution for you to have all your favorite videos saved at all times.
Also, the DownloadMediaFrom Video Downloader is completely free and doesn't have any limits, so you can start downloading all your saved collections of videos and Reels you have on Instagram without fearing they might get removed someday!
Additional FAQ
Can I download private Instagram videos?
Unfortunately, due to Instagram's privacy policy, the DownloadMediaFrom Video Downloader will not be able to process videos from Instagram accounts that are private. Since the downloader cannot access the link, it won't be able to download your video. You can always resort to different solutions for private videos, such as making a screen recording of the video you need to have saved. Almost all smartphones have a screen recording option, and the videos will be saved directly into your Camera Roll.
Also, if you are using Twitter, check out how to download Twitter videos with just a few clicks.